Scotty and I went out on a DATE last night. I know! A mid-week date! It's so scandalous.
First, we went and had dinner at this restaurant called Charleston's. I got this
amazing
salad - fried chicken and avocado and tomatoes and bacon and hard boiled eggs with a champagne vinaigrette dressing. (Sidenote: Thank God for spellcheck. You should see how I butchered my first attempt at spelling "vinaigrette" up there. Actually, it's good you can't see, because you might try to take my law degree away.)
I also had a glass of wine that was BIGGER THAN MY FACE. Seriously - I made Scott take a picture. It was
that
big. Excuse my expression...I was trying to look sophisticated and had a massive face failure.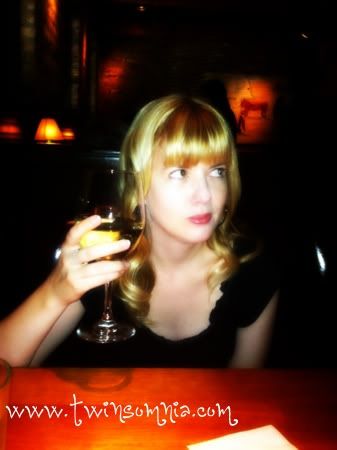 After dinner we went to the Miranda Lambert concert. She is on Scotty's "list", if you know what I mean, so I tried not to be jealous. But I shouldn't have worried, because by the end of the night she was on MY list! She is so bad-ass. Love her.
I danced and sang and Wooo!'d my little heart out. She didn't sing "Me and Charlie Talking", but all my other faves were in there..."Heart Like Mine," "Only Prettier," "Dead Flowers" - ack! I loved it. I had so much fun.
Today I am extremely tired. TGIF.