I recently got a fabulous opportunity to review a clothing item of my choice from Fresh Produce Clothing. Fresh Produce has some gorgeous clothes to choose from, including items such as a
simple dress
,
casual tops
and
vacation clothing
.
Because I am a girly girl, I went for a dress. The "
Twist Front Dress
", to be specific.
I ordered it in black because even though I am a girly girl, I am also a lawyer, and thus practicality typically wins out over my desire to wear girly girl colors.
It came in the mail yesterday and I LOOOOOOOVE it. So much so, that I wore it today to work.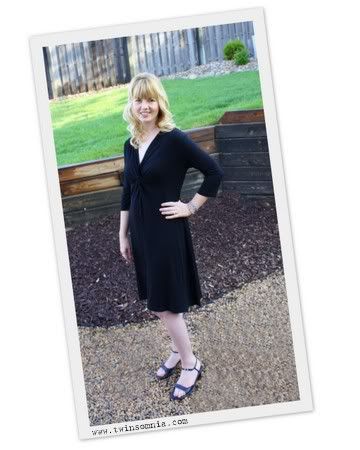 When I came downstairs this morning, the boys said "Mommy, you look BYOO-TEE-FUL!" And I was like "I know!!!!" ;-)
It is super flattering, made out of rayon/lycra so it is very comfy, and the twist detail adds just enough of a punch to keep it interesting, yet still classic. I also LOVE the 3/4 length sleeves. Let me tell you, it is HARD to find pretty black dresses with sleeves. And for a girl who lives in the midwest where it is freakishly cold 5+ months out of the year, long sleeves are a real treat.
That being said, I can't wait to revisit Fresh Produce to do a little shopping for my upcoming Hawaii vacation this August (that's right, we BOOKED! Hooray!) They have so many cute sundresses and breezy tops and tunics, etc. I can't wait to check out more of their stuff.
Go visit Fresh Produce...you will be impressed!
{Disclaimer: I received a clothing item of my choice from Fresh Produce
at no charge to facilitate my review. All thoughts and opinions are my own.}