Last week the fam and I headed downtown to watch the College World Series Home Run Derby and big ol' fireworks show. Actually, we skipped most of the Home Run Derby. Children have a limited shelf life, you know, so we didn't want to use up their good moods too early in the night.
It was the first time I've been down to see the new ballpark up close and personal, even though I see it every morning from afar as I drive to work.
It is a cool stadium, at least for this little town. It felt like living in a real live city!
That guy up there apparently won the derby. I wasn't really paying attention since I was busy taking artistic pictures of myself. What!? Baseball is boring.
Anyhoo, after the derby, various bubble mascot creatures came onto the field to entertain us during the wait for the fireworks. My kids' favorite was "Clammy Sosa", a mascot that ran around the field and pretended to eat things while "Eat It" by Weird Al played in the background.
Let me just say this. Clammy Sosa did
not
look like a clam. And that's all I'm gonna say.
...
Oh, forget it. Clammy Sosa looked like a giant va-jay-jay. A giant va-jay-jay, running around on the field, gobbling things up into its giant clam/va-jay-jay-like body. And my kids loved every second of it - especially when Clammy Sosa ate the batboy, and then spit him back out with nothing on but his boxers. Me? I was a little traumatized.
Any
-way. Let's get back to the fun family entertainment, shall we? Fireworks!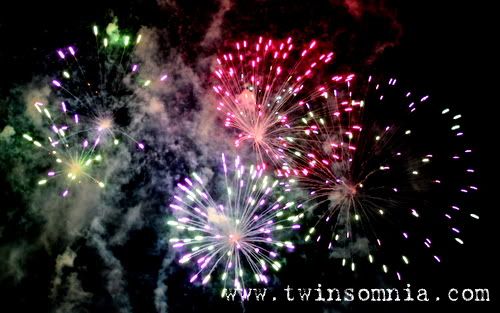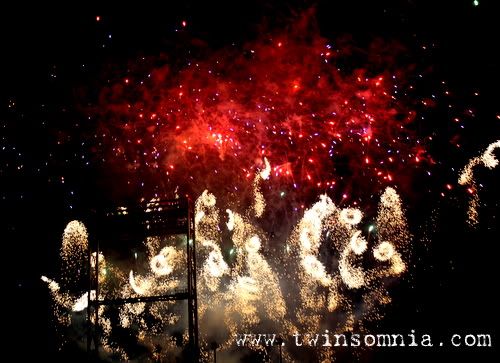 We all had a blast.
Let me just pause here and say a quick hallelujah for the "soften" effect tool in Picnik. Good God, I love my DSLR camera but my skin sure as hell doesn't.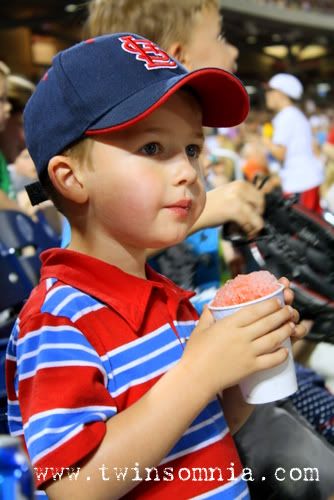 Aidan was much more impressed with his sno-cone than he was with the fireworks. Ah, the simple pleasures.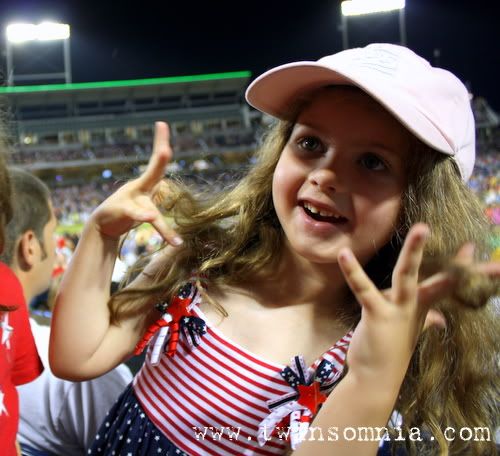 No clue what Ashley was doing. I think she'd moved past the tired stage at this point and was approaching delirium.
FYI - I cropped this picture so Scott's beer was cut out. Yes, that's right. I will talk about giant va-jay-jays on my blog, but will not show my husband drinking a Bud Light at a family friendly event. You gotta draw the line somewhere.