Grrrr. Stupid blogger ate all your comments on my last post. And they were good ones too, dagnabbit.
(Yes, I just said dagnabbit).
Anyways, we promised the kids they we would build a fire outside in the firepit this weekend and have s'mores. But then it was only 45 degrees today. And after spending this morning outside for the Great Strides Cystic Fibrosis Walk
and
Ashley's soccer game, I was not about to freeze my patootie off any more than I already had.
(Yes, I just said patootie).
So, we fired up the fireplace and roasted marsmallows inside instead.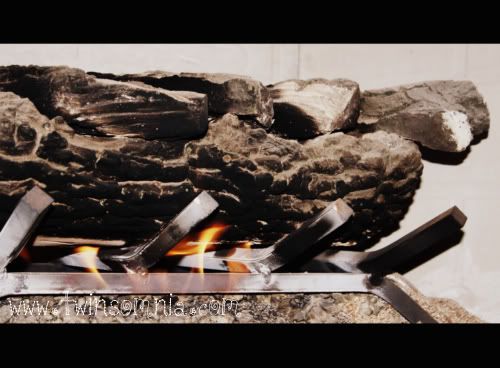 There was some momentary confusion when Ashley convinced herself that we were all camping out and left to get her sleeping bag and pillow, but luckily that all got straightened out and we got down to some more roasting. Or s'more roasting. Heh.
Scott and I don't trust the children near flaming objects yet, so we roasted one marshmallow at a time.
Owen was quite concerned when his 'mallow caught on fire. Luckily Scott was there to save the day.
Aidan was just excited to eat his.
Can you blame him? They looked
delish
.
So of course I had one too. Come on, this is me we're talking about.
Anyways, we all had a great time. And we stayed warm while doing so.
Say s'more!
"S'MORE!"
(P.S. Don't forget to vote!)