So, first thing's first.
Just in case
you didn't read all the way to the bottom of my
April LTTMMSE
post...it was an April Fool's joke. I don't
really
wash my hair with placenta shampoo, I swear. (I've been hemorrhaging followers lately, so I don't want a wayward placenta scaring anybody else off. This blog is a placenta-free zone, I promise.)
Second of all, I got a promotion at work! I am no longer an "Associate" and am now "Senior Counsel." I think it makes me sound like an old lady, but what can you do.
Third of all, Girls' Weekend 2011!
As I mentioned, the girls and I headed to Des Moines this year. Fancy. Let me tell you, it was just what the doctor ordered. If the doctor was me.
We got in late on Friday night, and honestly....I can't really remember what we did. I know there was dinner. And then checking into the hotel. And then chit chatting. And lots of laughing. I'm pretty sure I told the pickle story. And then I am just drawing a blank. I swear to God, my memory is going kaput the older I get. It must be the Senior Counsel in me.
Now, Saturday, I remember. We attacked the outlet malls.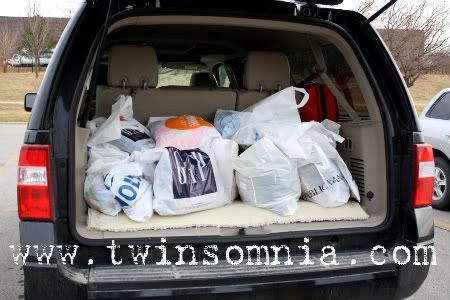 See? I think I won the dubious honor of being the only person to not buy something for her children and/or husband that day. Yep. It's all about me, baby. I did buy the kidlets a present the next day, though, so I'm not all evil.
After shopping, I think I fell asleep in the car. That's right. I'm wild! I'm wiiiiiiiiiiiild! (2 points if you can name the movie.)
But it was a good thing I took a nap, as we still had dinner planned for that night. We arrived at the restaurant all ready to go when one of my friends (who shall remain nameless) had an underwire emergency. Thank goodness for tinted windows and sharp teeth, is all I'm going to say.
I provided cover.
Just doing my job, ma'am. Just doing my job.
Next, we actually made it into the restaurant - Centro, which is actually pronounced
Chen
-tro. I know this because it said so on the door.
The food was yummy, although the restaurant was a bit bipolar. Snooty name, yet paper menus. Entrees with names you couldn't pronounce, yet parmesan cheese dispenser on the table. I couldn't quite figure it out. But no matter! I didn't have to cut anyone's food up, so it was perfect.
After dinner we headed back to the hotel, where we took our obligatory GW 2011 official photo. Looking good, eh?
From L to R: Amy, Dani, the "other" Megan, Anne, Molly and Me. Missing is dear Anna, who couldn't make it this year but was there in spirit.
We spent the rest of the night talking, sipping wine, telling stories, painting nails...you name the girly activity, we did it. Although no pillow fights. Sorry to any creepers out there.

I've known these girls since I was 14 years old, and let me tell you - they just get more beautiful, wise and incredible the longer I know them. How many people can say they've known their group of best friends for over two decades? Not many, I bet. I'm a lucky girl to have friends like these, and I know it. Love you girls, and can't wait for next year!