It's not too late to recap Easter, is it?
Well, I'm posting pictures anyway.
They all got a nice haul, if I do say so myself. Light on the candy and heavy on the Target $1 aisle.
Ashley
almost
figured out that the Easter Bunny wasn't real multiple times that morning.
First:
"MOMMY! Great news!" she called up the stairs at 6:30 am while I was still trying to sleep. "The Easter Bunny left all the left-over candy on the counter for us!!!!"
Whoops.
Second:
"MOMMY I CAN'T FIND MY EASTER BASKET!"
"Look next to the TV."
"MOMMY I FOUND MY EASTER BASKET!"
"Awesome!"
"HEY! HOW DID YOU KNOW WHERE MY EASTER BASKET WAS?'
Whoops.
Third:
Well, I swear there was a third thing but I can't remember now. Maybe this is the reason why you shouldn't wait a week to recap Easter.
Anyhoo, we all had a grand time. My family came over later that afternoon for an Easter feast and an epic Easter Egg hunt in the backyard. Each kid had a limit of 10 eggs they could find. But in addition to that, anyone could find the coveted
Golden Egg
.
Which is actually silver. But the kids insisted on calling it golden. So we just went with it.
On your mark...get set....GO!!!!!!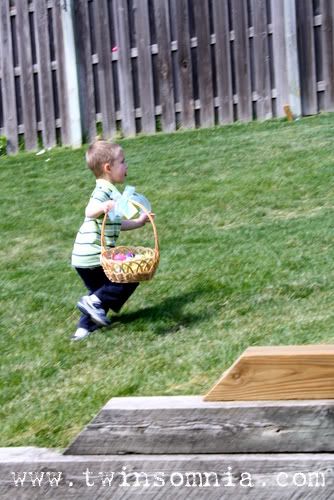 Aidan was concentrating
hard
.
While Ashley just ran around like a maniac.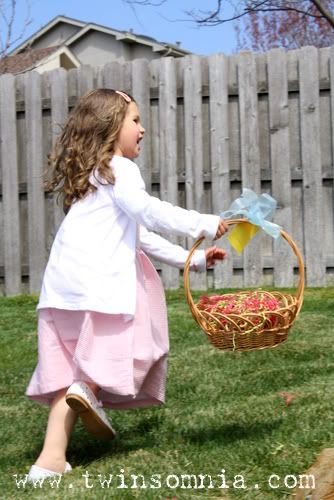 But there can be only one victor.
And usually at least one pouter.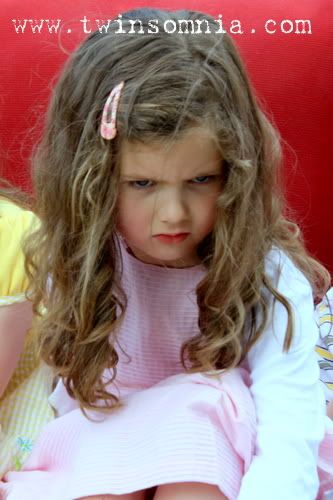 Luckily this one was a good sport.
And Ashley eventually got over it.
And we all lived happily ever after. Except for the chocolate bunnies. They didn't fare so well.