So while the boys were busy sticking Spiderman stickers all over their birthday crowns last weekend, Ashley and I made gorgeous princess hats for ourselves. She was
so
excited about this project. She even made a "list" the night before of all the different crafting supplies we'd need. Glue, scissors, markers, circly things, that black stuff, the shiny stuff...can you tell she's my daughter?
Anyway, the next day we got everything out and started crafting away. (Don't look at her hair. We had a severe Heidi braid malfunction that morning. No need to worry - we're all fine now.)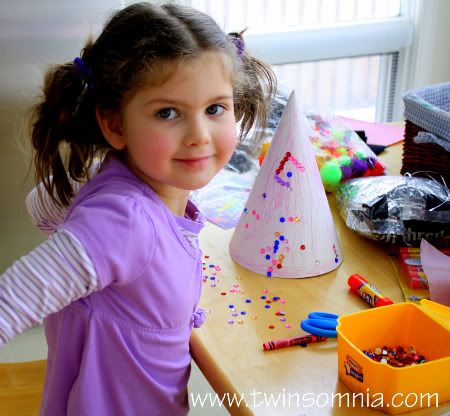 Ashley was having a blast, but as is the case with many five year olds, she has a severe glue addiction problem. So all her little princess jewels kept sliding down the glue avalanche created by the slant of her princess hat. It was
quite
frustrating.
So eventually, she switched to using stickers. With a few pockets of glitter here and there. Behold, Ashley's princess hat!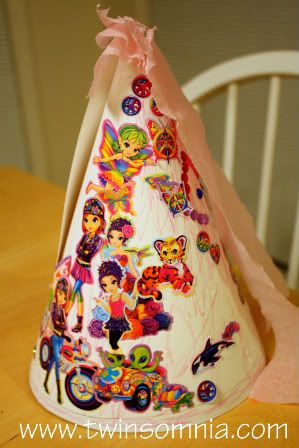 To be honest, I thought it looked a little bit ghetto. You know...like she was the princess from the wrong side of the kingdom. So I offered to let her have mine, too. I mean, it turned out so pretty. So dainty. So princessly perfect in every way. See????
She took one look at it and said "No thanks."
What the heck!? Who wouldn't want my gorgeous princess hat!? Does she not have any fashion sense whatsoever?!?!
I have a feeling this does not bode well for future shopping trips we may take together.