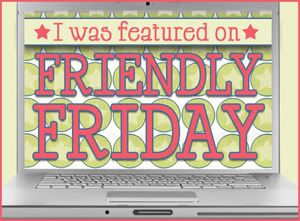 Well, don't I feel all fancy! Twinsomnia is one of the featured blogs on Friendly Friday this week!
I love Friendly Friday because it's just so darn....well, friendly! If you haven't participated in this blog hop before, get your blogging buns over to
Thanks, Mail Carrier
,
Frugal Novice
or
Healthy Home Blog
and sign up. It's fun!
And for any new visitors stopping by, welcome! And if you're tired of hopping and want to take a pit stop for awhile, may I suggest you check out
this post
of mine which recaps all my favorite posts from 2010. It will definitely keep you entertained for....well, hopefully at least 10 minutes or so. Thanks for visiting and I hope you come back for more!