Guess what time it is!?!? That's right, it's time for another...
Seriously, it is!!!! I know I haven't done one in ages, but Scott and I are now *officially* back on the Date Night Challenge bandwagon. I don't think we have the stamina to plan them as often as we did before (we are in our mid-thirties, after all), but we definitely missed them so my recaps will be popping up from time to time from here on out.
And if this is your first time reading about
"Date Night Challenge"
, check out my
Date Night Challenge
page for all the background. And if you'd like to participate, grab the button and link on up in the comments!
Anyhoo, this week Scott and I finally fulfilled the Date Night Challenge theme I mentioned
all the way back in September
(man, has it been that long?!?!)...
Ooh, fancy!
Now, I don't know about you guys, but I don't get to go to a spa very often. In fact, I've never actually been to one. Sure, I've gotten the occasional pedicure at that place in the mall, and once I got a facial at a fancy salon, but other than that....I'm a spa ignoramus.
So, in the full interest of disclosure, I have no idea what types of activities go on at an "official" spa. But, let me tell you, if your typical spa is anything like Le Spa de Megan, then it must be
fabulous.
So what did we do, you ask? Well, we made smoothies of course.
Because what kind of spa would it be if it didn't have a smoothie bar?!? A crappy spa, that's what!
OMG, I love a good smoothie. And the recipe we used was super easy. Let me digress and share:
What You Need:
1 cup ice
1 cup skim milk
1 cup frozen strawberries
1 cup frozen raspberries
3 tbsp. sugar
What You Do:
Blend it.
Yum.
We also had a light meal of take-out sushi. Although I don't think it counts as light if we each ate 12+ pieces. Oy. But it was delicious!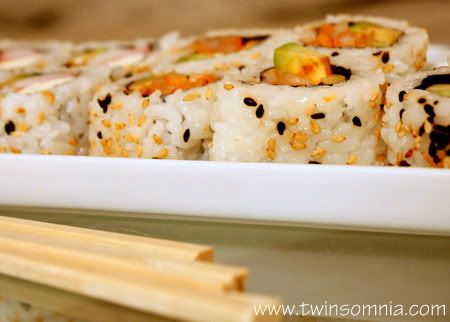 Next, things started to get romantical. So, I'm warning you, if you are a blood relative of mine (or otherwise squeamish about romantical things), you might want to click away now. Farewell, oh relatives of mine! And if you
do
keep reading, let us not ever speak of this post as I am sure it would be highly embarrassing for us both.
(The rest of you still here? Okay, good.)
So, we built a fire (i.e., turned on the gas fireplace), laid out a fur rug (A/K/A my sherpa blanket from Kohl's), and lit numerous candles, each of which was placed in its own unique piece of glassware (i.e., whatever I could find under the bathroom sink). It was
lovely
.
Actually, it really was lovely. But this was a spa date, not a log cabin date. (Note to Self: Log cabin date would be awesome.) So....we broke out the massage oil and got down to spa business.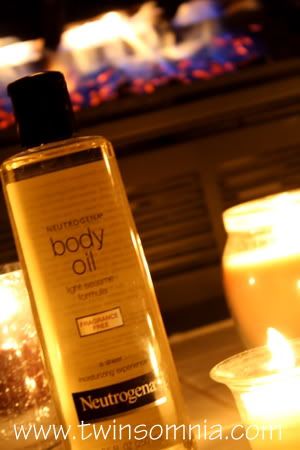 And just like that, this date night went from just romantical to
fantastical
. Because the only thing I love more than sushi and a smoothie is a good massage.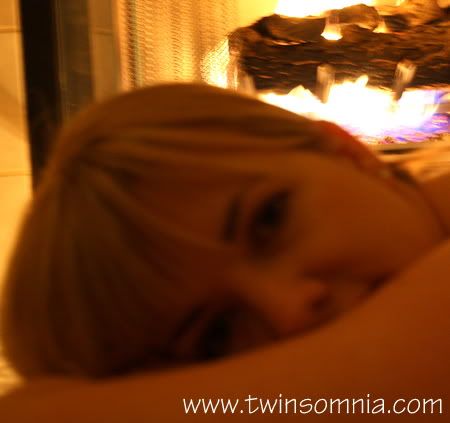 It was so relaxing, just laying in front of the fire and candles, getting my back rubbed by my sweetie... Almost too relaxing, because I wasn't quite ready to reciprocate when it was his turn. Luckily for him, I'm a giver. ;-)
After we were both turned to goo by the other, we went upstairs for our last spa activity of the night...a soak in the jacuzzi.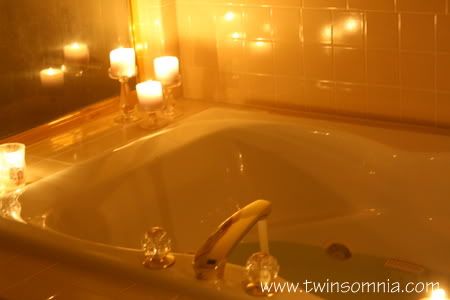 This thing is seriously underused in our house. Which I do not understand, because it is
heavenly
. Must make more time for jacuzzi soaks....how's that for a New Year's resolution.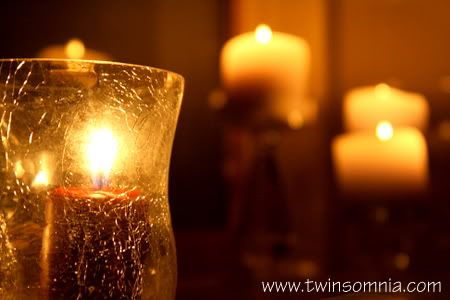 Anyway, it was an incredible date night. For any of you who are needing a little special time with your partner, I highly recommend this date - it was super easy to plan, extremely relaxing and very romantic. And we didn't even need to leave the house.
And as always, we ended our Date Night Challenge with a kiss goodnight...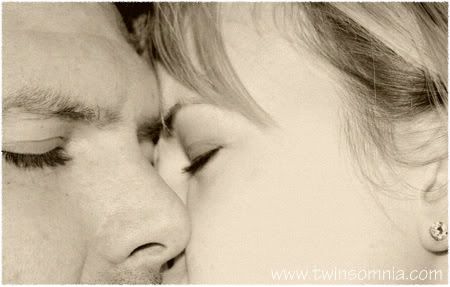 We were both so contented we couldn't even hold the camera up. But I like this picture. It seems so intimate, just like the date was, so I actually think it's perfect.