Today I'm going to be a little more serious than normal on my blog, since it's World TTTS Awareness Day. For those of you who don't know (which included me before I was diagnosed with it), TTTS stands for "Twin to Twin Transfusion Syndrome." It's a rare condition that can develop during an identical twin pregancy if the two babies share a single placenta. And it's serious, scary, and potentially deadly stuff. You can learn more about it
here
.
But let me back up a bit.
I remember when Scott and I first found out we were having twins.
I was almost 12 weeks along. Almost out of the first trimester. We had just flown back home from a week long trip to San Diego for a college friend's wedding. It was late at night and I was exhausted as we drove home from the airport. Ashley was asleep in her carseat in the backseat. I was thinking about how her first birthday was only a few days away.
That's when the bleeding started.
I was convinced I was miscarrying. I'd had a miscarriage before, a very early one, but I knew the drill. There was nothing I could do to stop this. I was wrecked. I called the doctor the next morning, and they told me what I already knew. I was scheduled for an ultrasound the next day.
Scott and I went in together. By this time, the bleeding had stopped. And being a mother, of course I hoped. Hoped that we'd see a flickering heart on the screen. But I knew what I had seen and felt that night in the car and the hours that ticked by so slowly afterwards. So I held Scott's hand tightly when the ultrasound began.
I cannot describe that moment with any justice. But imagine going into a room, prepared to hear that your deeply desired baby no longer lives inside you. And then to see on the screen that not only does that baby's heart beat, but another one beside it beats as well. Scott and I both knew the minute we saw the screen. And the joy on Scott's face as our eyes met...well, I will never forget it as long as I live.
That is the story of how we found out we were having twins.
There is also a story of how we almost lost those twins. That story is filled with doctor visits. More ultrasounds than I can count. A needle removing liters of amniotic fluid from my swollen belly. Driving six hours to Cincinnati in the middle of the night to meet with a team of world-renowned maternal-fetal specialists. MRIs. Echocardiograms. Fetal-laser surgery. 15 weeks of bed rest. A 58% chance of both of the boys surviving.
A coin toss for my babies' lives.
TTTS is horrible. I was blessed with two lives growing inside of me, completely unexpectedly, and then just as I began to feel and accept the miracle of it all, TTTS threatened to take it all away.
I was one of the lucky ones. But I know how easily I could have fallen on the other side of that coin toss. If you or anyone you know becomes pregant with identical twins, make sure they know about TTTS so they can watch for the signs. And make sure they know about the
TTTS Foundation
, because it is an extremely helpful resource during an identical twin pregnancy.
I had never heard of TTTS before I was diagnosed with it, but I was extremely fortunate that my doctor had. Because if it weren't for him, I wouldn't have these guys.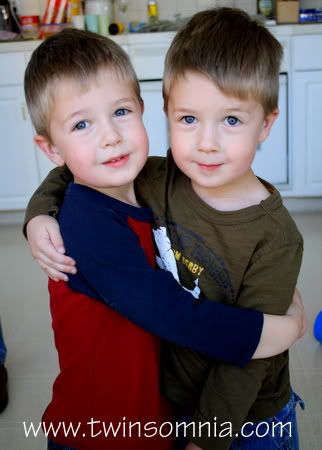 But more importantly, they wouldn't have each other. And that's what I am the most grateful for.
That my boys have each other.