We got the boys' school pictures back this week. (
Note to Self:
There's a reason why they make you fill out the order form
before
you see the pictures. Remember that next year when you're trying to figure out what package to buy.)
Aidan's wasn't too terrible. He's got hair issues, but
that's nothing new
.
Now my darling Owen, on the other hand. When he got home from school on picture day and I asked him if he smiled big, he insisted that he in fact did NOT smile big. And that he was MAD. But still I thought, "Oh, certainly the photographer got him to crack at least a
little
smile. He wouldn't have just snapped a picture of Owen's mad face."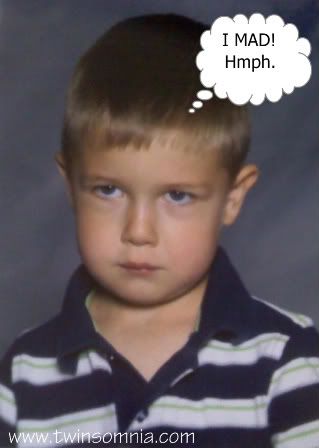 I underestimated my Owen.
At least he looks a little happier in the group pic. Although I'm not sure what Aidan's pouting about. Maybe that Owen has two girlfriends while he only has one?
I guess it's true what they say...girls always go for the bad boy.