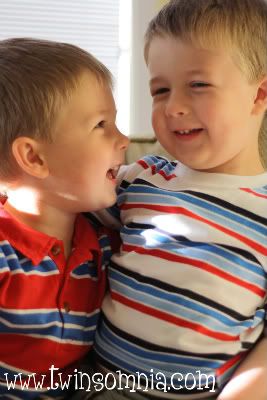 The twins have invented a few new super fun games lately that I thought I'd share with you all.
Now, this isn't the first time I've posted about
games that the twins have made up
. But nobody read my blog back when I wrote that other post. And even if you
did
read it, that post was written waaaaaaay back when the boys were only 18 months old or so. The games they make up these days are
much
more sophisticated than "Door Tennis" or "Capture the Lovey", so I thought it was high time for an update:
1. "Snake!":
I, for one, love it when the boys play "Snake!" because it's a very slooooooow game. I can usually blow dry my entire head of hair uninterrupted during a game of Snake, and that's good enough reason for me to rank this game #1 on my list. Snake basically involves one boy running away from the other while yelling crazily, and then climbing up on a higher surface like the couch or a kitchen chair or my thigh. Once the first boy starts running, the other drops to the ground and begins to slither on his stomach towards the first boy while muttering "snake.......snake.......snake....." the entire journey. This can take a really long time, depending on how far away the first boy runs and if carpet is involved. Interestingly enough, the boys do not make hisssss or rattle sounds or even say "candy gram" while playing snake - they just say "snake." Apparently the literalness of it at all makes it even more terrifying.
2. "Buzz Dead":
This is their absolute most favorite game as of late. In it, the boys reenact the opening scene of Toy Story 2, where Buzz Lightyear gets blasted to bits by the evil Zurg in a video game sequence. It starts like this - one of the boys will shout "Me Buzz!" Then the other will shout back "Me Bad Guy!" Then whoever is playing the role of "Bad Guy" will shoot pretend lasers out of his pointer finger while "Buzz" collapses face-first onto the carpet. Then "Bad Guy" lets out a deep-voiced maniacal "Mwah ha ha ha!!!!!!" Then they switch. This can go on for
hours
. They play it so much I'm worried I might have to start paying the Toy Story folks royalties.
3. "Toddler Fight Club":
The first rule of Toddler Fight Club is:
You do not talk about Toddler Fight Club
. I just found out about this game tonight, when I heard the boys laughing playfully and saying "Push me!" in the other room. I figured they were taking turns pushing each other around in their new Cozy Coupe. Aw! Except instead they were taking turns shoving each other to the ground. For fun. Too bad they didn't know the second rule of Toddler Fight Club:
Do not let your mama find out about Toddler Fight Club
.
4. "Ghost!":
"Ghost!" is very similar to "Snake!", except Ghost is played vertically with a blanket over your head. Also, the boys sometimes like to mix it up by teaming up as double ghosts to try to scare me. It might actually work, except for the fact that they usually start muttering "ghost....ghost....ghost..." ten minutes before they get to wherever I am. Like I said...they're not big on the element of surprise.
5. "1...2...3...Lift Off!":
The boys loooooove this game. Basically, they take a toy airplane, or helicopter, or Buzz Lightyear, or anything handy that has wings and hold it steady while they do a countdown. Except technically they count up instead of down, but let's not split hairs, people. So anyway, they go "One.....two.....three...." and then they say "Lift Off!" But you know, the boys' speech still isn't that great. And it sure doesn't sound like "Lift off!" to me. Sometimes it sounds like "J*ck off!" Sometimes it sounds like "F*ck off!" But no matter what it sounds like, it always makes me laugh. And reminds me to leave the flying toys at home if we're planning to go out in public.