Guess what time it is!?!? That's right, it's time for another...
If this is your first time reading about
"Date Night Challenge"
, check out my
Features Page
for all the background. And if you'd like to participate, grab the button and link on up in the comments!
This week, Scott and I decided to go a little bit classier with our Date Night Challenge theme:
Ooh la la! Or wait...is that French? Eh, who cares.
So you might be thinking to yourself "But Megan! How can you find the time to go to Italy?? Don't you have three small children at home??" And I would respond "Si, senora!" (Pretty sure that's Spanish). But then I would go on to explain that with a little bit of imagination, a few downloads from iTunes, and
a lot
of chianti, you can bring Italy right to your very own kitchen!
First and foremost, we knew we needed the right ambiance. So we set up a cozy little card table in the kitchen, threw a red tablecloth over it, broke out our china and lit some candles.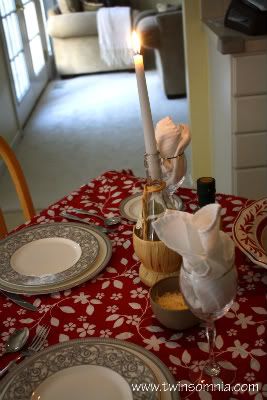 We were even super prepared and drank an extra bottle of chianti the night before so we could use one bottle as a candle holder. Do you see how dedicated we are to this date night challenge stuff?!?!?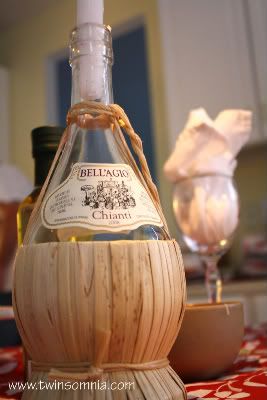 Then, of course, we got the mood music going.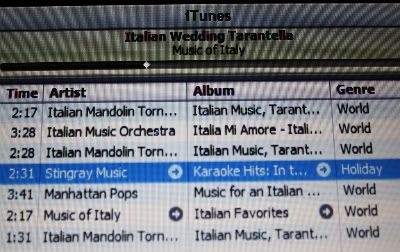 Unfortunately
, I put Scott in charge of downloading the Italian tunes, and he skipped over what he called "boring dinner music" in favor of peppy little Italian tunes like "Dominick the Christmas Donkey." Chingedy ching, hee-haw, hee-haw. Which although quite catchy, isn't what I'd call romantic. But c'est la vie! (I know - French again.)
Scott got in the dancing mood while putting the finishing touches on dinner, while I tried to look like a sophisticated woman sitting at an Italian sidewalk cafe.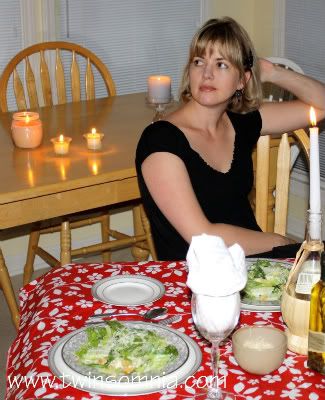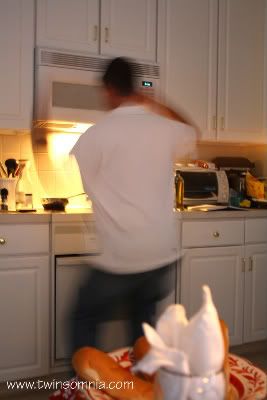 Not quite sure if I got it right. I think I look more bored than sophisticated, but they kind of go hand in hand so maybe I'm doing all right.
Dinner!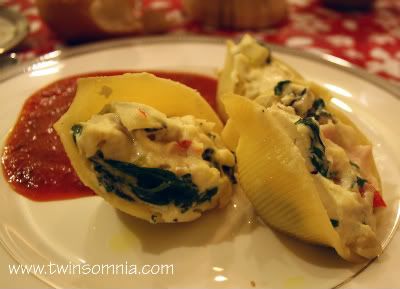 We had stuffed shells that were
delicious
. We had a slight mishap with the cream sauce, but luckily our house is well-stocked with Ragu which can save you from almost any food emergency.
After dinner, we lingered at the table drinking wine by candlelight.
And then headed upstairs for our after-dinner entertainment.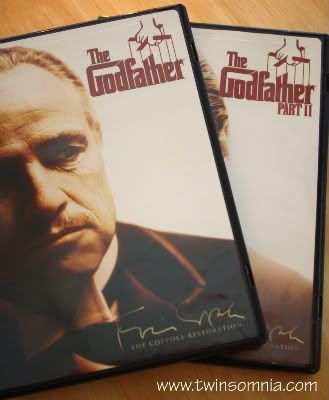 Watching a Godfather movie marathon, of course. What did you think I meant?! Dirty birds.
We only made it through the first movie before we fell asleep. But I didn't mind, because that means there may be a sequel in store for this Date Night Challenge.
Ah....amore.
***
And now for next week's Date Night Challenge theme....
(It's so exciting I just can't stand it!!!!)
Should be fun!