Guess what time it is!?!? That's right, it's time for another...
If this is your first time reading about
"Date Night Challenge"
, check out my
Features Page
for all the background. And if you'd like to participate, grab the button and link on up in the comments!
This week, Scott and I decided to go a bit old school with our Date Night Challenge theme...
Exciting, no?
After we shipped the kids off to bed, we slipped into something a little more comfortable (p.j.'s) and started things off the way all good breakfast dates should...with a bottle of champagne. The $6 kind. Fancy!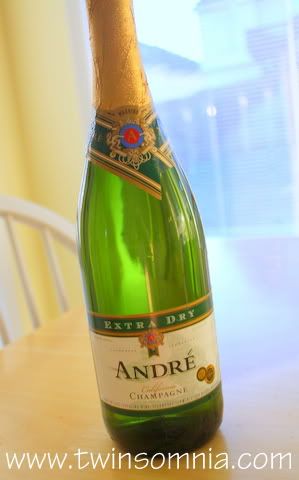 We combined it with orange juice to make Mimosas. Seriously the easiest drink to make in all the world and tres delicious.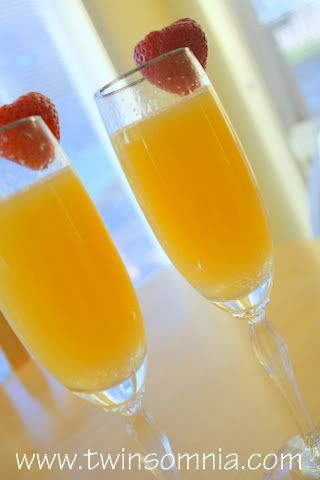 Don't the strawberries look like puffy little hearts? I didn't even intend to do that, I swear!
But let's get serious, people. We all know that breakfast isn't breakfast without one very important item.
Bacon. Yum.
Scott banished me to the table to sip my mimosa after a wayward bacon grease splatter almost killed me. Breakfast in bed is dangerous stuff.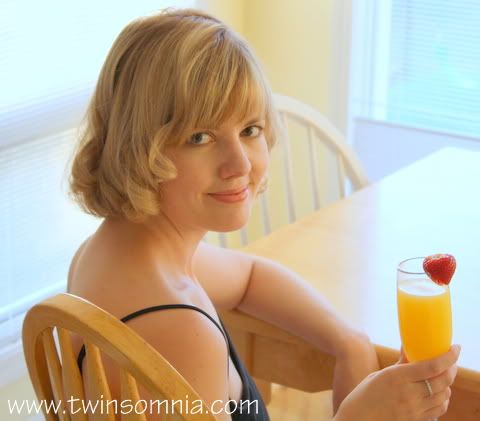 After a minor disagreement about whether or not to make pancakes in addition to the eggs and hashbrowns and bacon and toast (I voted yay on the pancakes, he voted nay - spoilsport), we decided it was time to eat.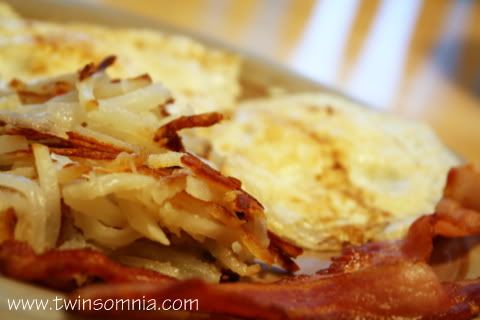 So we headed upstairs to the "bed" part of the equation.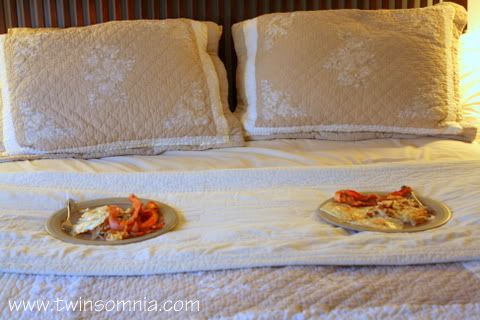 So comfy. And delicious. And simple. Which is always a plus when you're planning a date night at home.
Of course we didn't stop there for the night. But what else can you possibly do on a "Breakfast in Bed" date night challenge, you ask?
Well, lots of things.
But
we
decided to watch the classic 80's movie starring Molly Ringwald and Judd Nelson - The Breakfast Club.
Which was fun for awhile, until we realized we'd have much more fun if we reenacted it instead.
Ladies and gentlemen, I give you The Breakfast Club, starring Scott and Megan.
Watch out Molly Ringwald, there's a new teen queen in town. Or a mid-thirties queen. Whatever.
Anyways, we had a lovely night, as always. Of course I can't leave out the goodnight kiss.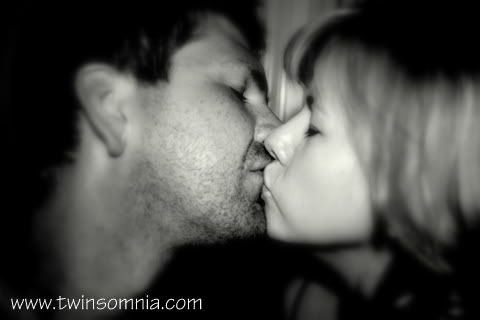 What can I say? He makes me feel like I'm back in high school all over again. Minus the acne and the angst.
***
And now for next week's Date Night Challenge theme....
(What will it be?!?!?)