This post is all bloggy business, so put on some sensible closed-toe shoes and nod along like you're really listening.
1.
I'll soon be reviewing another product for CSN Stores right here on my blog. I'm super excited to be working with them again, because they sell awesome stuff such as
dining room sets
and cookware and toys and bedding and pretty much any other product you could think of. So stay tuned for that!
2.
I'm bringing stupid back, baby! Yes, that's right, another edition of "
Little Things That Make Me Stupid Excited
" is just around the corner!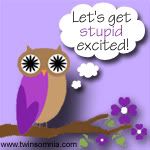 I think I'm going to make it a monthly feature and add a link-up thingy to it. That is, if I can figure out how to do that. Anyways, I'm planning on putting it up on the 1st of each month, so if you're interested start thinking about things that make *you* stupid excited for the August edition.
3. As if this post wasn't exciting enough with all the bloggy blabbing, I'm *also* going to start another little regular feature here on my blog. I'm calling it the "Date Night Challenge," and it came about because Scott and I are constantly trying to come up with interesting ways to entertain ourselves whilst chained to our house due to the fact that we have three children and zero babysitters. Each week I will provide you with a recap of whatever date night we came up with for that week. So without further ado, this week's Date Night Challenge theme is........
(imagine a drum roll here)
A Night at the Bowling Alley
A festive recap with all the details will be forthcoming. Once we actually have the date. Which will hopefully be tomorrow. Or maybe Friday.
My hope is that this feature will inspire some of you to plan your own spectacular home date nights. Or in the alternative, that it will make one of my local friends have pity on us and offer to babysit so we can actually go on a real date. I'm good either way.