On Wednesday evening,
my mother called and informed us that a thunderstorm was on its way. And this was no ordinary storm - straight winds of 70 mph were being predicted. We looked out the back windows and watched the surge of midnight blue clouds rolling their way toward us.
And then it was upon us. Scott and I stood by the back doors and watched the pergola strain from the force of the winds. Red petals from the hanging geraniums flew like confetti. The ceiling fan tilted and spun crazily until its blades were sheared off one by one.
I wondered if I would have been blown across the yard had I been outside.
The rain pelted the house so hard that I worried about the windows holding. Trees bent so far over that I feared they would snap in half. Thunder rolled and lightning flashed, and the children buried themselves in pillows on the couch.
And then as soon as it began, it was over.
Scott went outside to assess the damage. But other than the dismembering of the ceiling fan, the storm had not left much evidence of its violence behind. Instead, it left us this.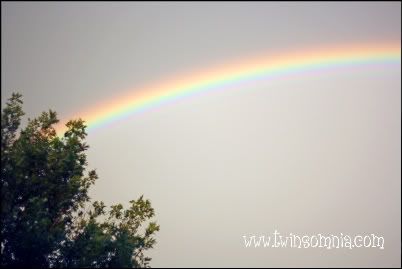 And I thought,
damn
...
That's a pretty cheesy ending for such a bad ass storm. If it was me I would've given us the finger.
But to each their own.