So, this weekend, I asked Owen if he wanted to learn how to write his name.
And guess what?
He already knew how.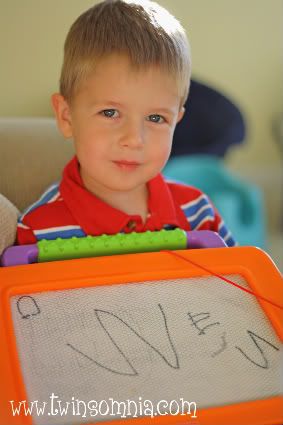 I have no idea where he learned it. He's only 3 and a half. He doesn't go to preschool yet. He watches too much tv. All he eats is pasta and applesauce. These are not prime brain-building conditions.
For pete's sake, he can barely
pronounce
his own name. But apparently he can write it.
I made him rewrite it forty million times because I didn't believe it. Craziness. I wonder what else he can do that I don't know about. Drive a car? Perform surgery? Read Tolstoy?
Also worth noting: I finally got him to poop on the potty and pee standing up last weekend. But this name writing thing is much more exciting. Plus, it provides for more blog-appropriate pictures.
(You're welcome, Owen. Now get to work writing that novel...mama needs some new shoes!)