On Saturday,
my little family and I went to "
Taste of Omaha
." Basically, it's a little outdoors event held on Omaha's riverfront where you buy tickets and then walk around tasting food from various restaurant booths that have been set up in the area.
Or, if you're like us, you buy tickets and then go "Holy crap, it's hot out" and then go eat inside an air-conditioned restaurant instead.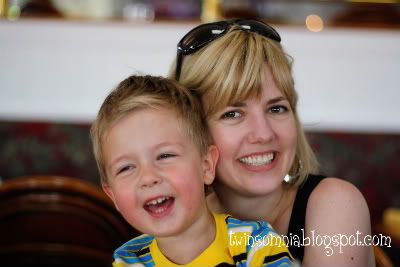 It's never too hot for cuddles.
After lunch, we went back to Taste of Omaha and tried to figure out something to use our tickets on. We settled on carnival rides and smoothies.
Parenting Question of the Day:
Is it okay to trust a scary-looking carnival ride-operator when deciding whether to let your 4-year old daughter go on a roller coaster by herself?
Answer:
If your daughter isn't scared of the carnival man, she can probably handle the roller coaster.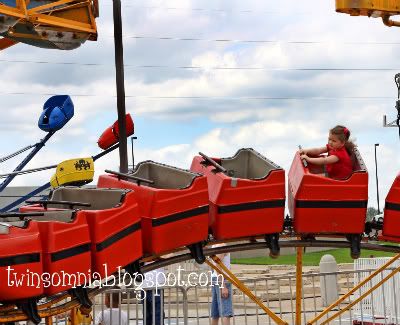 I'm not scared. I'm just...concentrating.
It's a good thing we didn't try to feed the kids lunch with the amount of tickets we bought. Even the smoothies were astronomically high-ticketed! Apparently inflation is hitting the tasting industry hard.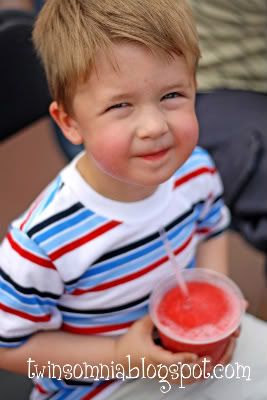 Aidan, sipping away at his college education fund.
After the smoothies, we only had enough tickets left for a little train ride. Ashley was seriously the cutest. She was first in line and wanted to sit in the front engine, but decided she needed to get the boys situated in the middle cars first. She was actually trying to buckle Aidan in all by herself before the carnival man took over.
The boys all set to choo-choo.
By the time she was ready to find her own seat, all that was left was the caboose. But my little Ashley rode that caboose in style.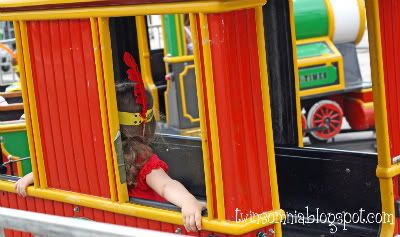 Ashley, chillaxin' in the caboose.
By the way, we also advertised a home security business the whole time we were down there. Give my kid a feather and they'll hawk your product, no problemo. But they might sleep on the job. They are only 3, after all.
Owen, violating child labor laws.
Anyway, we had a blast. I
♥
summer. Even though it's really hot.