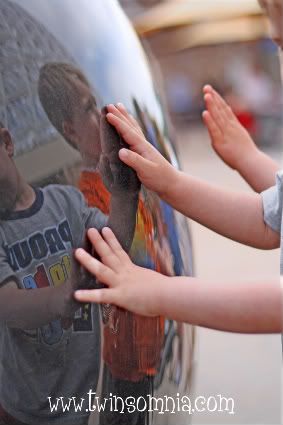 And now for something completely different, a couple of blog-keeping issues:
1.
I keep seeing blog after blog in my reader moving to Wordpress. What's the dealio? Does blogger have cooties? Help a busy lawyer/mama/wife who barely has time to blog let only figure out where she should be blogging understand what the heck is the deal.
2.
Although it doesn't really matter because I just bought my own custom domain on blogger, so I'm not going anywhere anyway. I'm just curious. For those of you who are so inclined, please feel free to update my web address on your blog rolls to www.twinsomnia.com.
3.
Speaking of blog rolls, mine got a little whacked out when I bought the domain. I tried to update it the other day but am not sure if I got everybody back on there. So, tell you what - if I don't have you on there and you've linked to me on your blog, please let me know so I don't feel like a moocher and can give you some linky love back.
4.
See what I did up there with the post title? It's a play on both losing the "blogspot" in my URL, while doubling as a joke about blog housekeeping. Heh. I just felt too clever not to point it out.
5.
The picture above doesn't have anything to do with this post. I just liked it and couldn't think of anything to blog about with it. Although now that I'm thinking about it, the boys are getting fingerprints all over that thing. And it looks like it could use a good dose of Windex. So I guess it goes with the housekeeping theme after all. Plus, it's round. Like a
spot
. Oh my word, I'm a genius and I didn't even know it.