So, I decided to de-purple. Not completely, but just a bit.
And in other news, did I mention that Scott is going to be painting our house in the upcoming weeks? He has indicated that de-painting a house is not as easy as de-purpling a blog, so I better be pretty committed to the color I've chosen.
I've decided to go with "Steamed Milk" from Sherwin Williams:
(Although if my steamed milk looked like that, I would probably throw it out. Beautiful color for a house, but not too appetizing for a beverage, I must say.)
I feel pretty confident in the color, since I've been stalking a house in the neighborhood for awhile now that I love the color of. We even introduced ourselves to the owners, looking for paint chips or clues as to what color it might be. When they didn't remember, they graciously allowed us to hold millions of Sherwin-Williams paint chips up against the back of their house to see if we could find a match. We all agreed "Steamed Milk" was the closest.
These lovely homeowners also introduced us to their new pet frogs. I can't remember exactly how we moved from paint chips to pet frogs, but they were friendly folks so we just went with it.
Anyway, the kids loved the frogs so we got some of our own: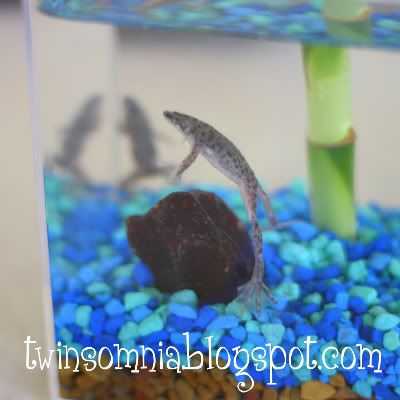 That is "Rosie" right in front, and the little shadow frog in the corner is "Carys". Spelling is approximate, as names were picked out by Miss Ashley who can only tell me how to spell her own name at the moment. Basically, the picture represents what the frogs do all day - suspend themselves in the water and make us worry that we've killed them. Either that or give each other "piggy-back rides". Don't ask.
Anyway, back to the painting of the house.
Here's hoping that the paint color is not only perfect, but that Scott does not maim or kill himself while doing the painting. He's sworn never to die and leave me alone with these 3 children, and I'm planning on holding him to it.