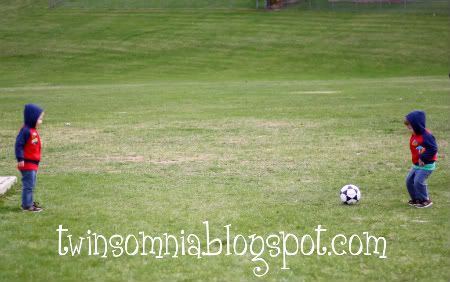 When Scott and I first found out we were having identical twins, we were thrilled. THRILLED. Then a kill-joy maternal-fetal medicine specialist came in the ultrasound room and got us all freaked out about
TTTS
and down syndrome risks and neurological what-have-you's. But for the 5 minutes we had before she came in, we were THRILLED.
Because at that time, we didn't think about how there'd be twice as many diapers. Or how the heck I was going to nurse two babies at once while wrangling an 18-month old, too. Or how a good night's sleep would become a distant memory.
We were total newbies. Newbies who thought that twins were just plain
awesome
.
Now, I'm a seasoned twin mama. I know all the issues and challenges that face parents raising twins, especially identical twins. Issues like how do we help them grow as individuals. Should we keep them in the same class at school or separate them. And how do we give them each the individualized attention that they deserve. As a member of the twin mama club, I'm supposed to understand and appreciate that raising twins is
complicated
.
But when I look at my two boys, barely three years old, as they head off to kick a soccer ball back and forth between them, entirely of their own volition, all I can think is...
Man, twins are just plain
awesome
.