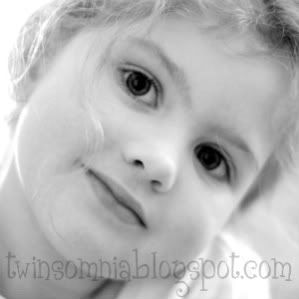 This week has been a tough one at work. I'm billing hours out the wazoo and still haven't finished everything I need to get done.
I've just been drained. I've got nothin' left at the end of the day. I'm an empty vessel.
I came home the other night, bleary-eyed with achy feet after a long day of work. The minute I stepped in the door I took my coat off, kicked my fancy shoes across the mud room and started trudging towards the kitchen.
Ashley greeted me on my way there. "Mommy, where are your socks?"
You know, I was so tired I actually thought to myself "Hey...where
are
my socks?" before I remembered that I had gone sockless that day, all in the name of fashion. My winter footwear
problems
never cease, do they?
So I said to Ashley, "I'm not wearing any socks." Which, to be fair, was really kind of a dumb response.
"I
know
you're not wearing any socks, mommy. Where
are
your socks?"
"Oh. I guess they're in my drawer upstairs?"
Ashley pondered a minute. And then she asked me "Are your feet cold?"
And I said "Yes, my feet are cold, honey."
She nodded, knowing now what needed to be done. "You need your socks, mommy." And she started skipping towards the stairs as my grateful eyes watched her go. Here was my little bunny, worried about her mommy's cold feet at the end of a long day, off to fetch her some cozy socks. I was just overcome by the sweetness.
Until I realized she was skipping right past the stairs and on down the hallway. She looked over her shoulder as she passed me by and said "You should go get them. They're in your drawer."
I hear dogs don't insist on watching Caillou, either. If only I'd known.