So, this weekend my family is jet-setting off to St. Paul, Minnesota to watch my little brother Andy (can I still call him little when he's almost 33?) play in a hockey tournament. It's going to be bloody awesome! Oh wait, I'm not British. It's going to be bloody
and
awesome!
Apparently that's a good thing? Because he seems awfully excited about it.
But the violence is all for a good cause, because this is no ordinary hockey tournament. My amazing little bro has organized this tournament to benefit the Cystic Fibrosis Foundation.
I don't talk about it very often here on my blog, but my family has been touched deeply by cystic fibrosis. My darling little niece Ellie was diagnosed with it shortly after her birth. Ellie is the daughter of my older brother Matt and his wife Jennifer, and is just a few months younger than Ashley.
Savor the cuteness: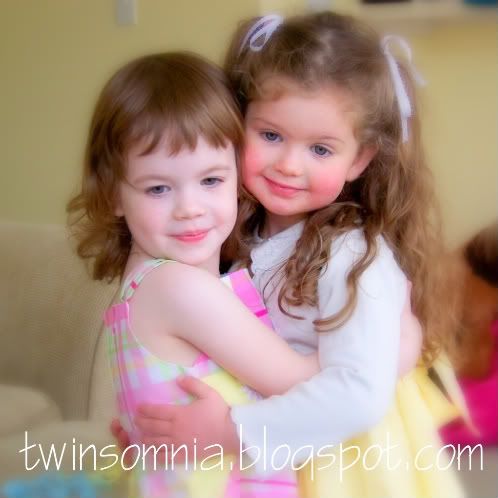 Anyway, I have all these sappy dreams of Ashley and Ellie being best friends, growing up together, having play-dates and sleepovers, graduating together, being in each other's weddings, being godmothers to each other's kids...
(Matt, please don't take out the restraining order just yet. I have a point that I'm getting to.)
Because I want all the wonderful things in the world for Miss Ellie, I'm on a quest to find a cure for cystic fibrosis!!! Unfortunately, I went to law school instead of medical school so I'm sometimes at a loss as to what I can actually do to help move things along.
But my little brother Andy, on the other hand, is not at a loss. Even though he lives up in Minnesota and doesn't get to see Ellie as much as he'd like, he organized this amazing benefit for her called the
Checking for Cystic Fibrosis Tournament
. It will be held this Sunday, February 21st at the Blaine National Sports Center Schwanns super rink, and consists of various public safety agencies playing a double elimination hockey tournament. Did I mention that Andy is a paramedic? Yeah, he's awesome
and
he saves lives.
Good lord. i just realized I left the part about manly firemen and paramedics playing hockey until almost the end of this post. I would never make it as a cystic fibrosis fundraiser.
Anyhoo, if any of you are in the Minneapolis-St. Paul area come Sunday and are looking for something to do, stop by the tournament to support the fight against cystic fibrosis! Or just come to watch manly firemen and paramedics play hockey, whatever floats your boat. And if any of you have an extra dollar or two that you've been meaning to donate to a worthwhile cause, my family would be absolutely thrilled to have you support Andy's fund-raising efforts by clicking
right here
to donate to the Cystic Fibrosis Foundation. Or just send a prayer/good thoughts Ellie's way - we'll take all the good vibes we can get.
Oh, and while you're at it? Please say a prayer that Scott and I survive the six hour drive up there with the kids. Oof.