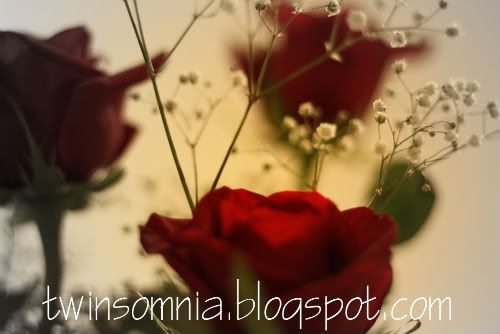 My brain is all over the place these days. There's so much stuff to update on that I've already blogged about. But then new random things that are semi-related to the original stuff keep popping into my mind.
And I can't decide which of them I should blog about.
So I've decided to just blog about it all. Prepare yourself to jump from topic to topic. It will be just like Quantum Leap, except the only place you'll be going is the inner workings of my mind. It's a convoluted place, so watch your step.
The Black Eye
Update: My black eye is healing quite nicely. Now I only have a small bruise under my left eyeball, which blends in quite nicely with the dark circles that are ever-present under my eyes. So really, Aidan's head-butting placement worked out quite well.
Tangent: This incident reminded me of the time I fell out of bed and landed face-first on my laptop, giving myself a real juicy shiner in the process. I was having this crazy dream that someone was going to beat up my mom. Don't ask me where that came from - I swear my mom is a really nice lady. Anyway, in my dream I started swearing and lunged after this mom-threatener, which frankly, was really kind of bad-ass of me. At least that's how it went down in my dream. In real life, Scott says I just squawked like a peacock and then rolled out of bed. Maybe I need to start wearing a helmet.
Valentine's Day
Update: Well, Valentine's Day wasn't all bad. Scott got me a dozen roses! And he made me chicken parmesan a la The Pioneer Woman. Or at least he tried to. I'm sure her version is delightfully delicious, but Scott made a few substitutions that probably won't make it into the next version of The Pioneer Woman Cooks.
Tangent: The chicken parmesan totally reminded me of a meal that Scott used to make me back when we first started dating. It was called "German Spaghetti." This meal was basically a pile of spaghetti with a can of whole tomatoes poured over it. With lots and lots of garlic salt. It was so awful I called it "Concentration Camp Spaghetti." But only behind his back of course, because I really wanted him to like me back then. Thank God we've been married almost 8 years and I don't have to eat german spaghetti anymore. Unless it comes disguised as chicken parmesan.
The Vacation
Update: Well, I tried to book it. I really did. But we had some more snafu's with Expedia. And then, Scott's Grandma Alice got sick so we didn't want his mom to have to come up and take care of our kids instead of her mom. So, our vacation is indefinitely postponed and prayers for Grandma Alice would be appreciated.
Tangent: Whenever I think of Grandma Alice, I think of the time she took me and Scott to play bingo. It was my first bingo experience, and I thought it was going to be light-hearted fun. Well, I was wrong. Bingo is SERIOUS STUFF, people. You don't mess around in a bingo parlor. I could barely keep up with the bingo caller, she was calling numbers so fast. Everyone was concentrating on their bingo cards. Bingo dobbers were flying like lightning. Then all of a sudden, someone in the smoking section across the room yelled "Fire!" But nobody looked up. Well, Scott and I did, but nobody else. The bingo caller kept on calling. Again the shout was heard - "Fire!" This time the bingo caller took notice. She said "You got a fire over there?" And when it was confirmed, she responded with a helpful "Well, then put it out." And then she went back to calling. And by God, I went back to dobbering because apparently that's what you're supposed to do when there's a fire in a Missouri bingo parlor. So God bless Grandma Alice, because she taught me how to play bingo properly.
The Hair
Update: Well, I've gotten comments on my new hairdo that range from "Super cute!" to "Hello, young Ricky Schroder." For now, I've decided to believe the super cute camp because I like to look on the bright side of things. Which is easy to do when your hair is already two shades brighter than the bright side of things.
Tangent: Hmm, I guess updating about my hair has not caused my mind to wander anywhere else. Now that's a shocking development. I hope you enjoyed your journey through Megan's brain - please make sure your seatbelts are fastened and your seat has been returned to the upright position. And don't forget to collect your belongings on the way out, because it's already crowded enough in here.