The boys will be turning three years old in just a few days.

How is that even possible???!!!

It seems just like yesterday that they were turning one.

That was the year I threw them a cowboy-themed party. Which I chose partly because western themes are easy. But mostly because I wanted to dress them up in cowboy hats and fake moustaches.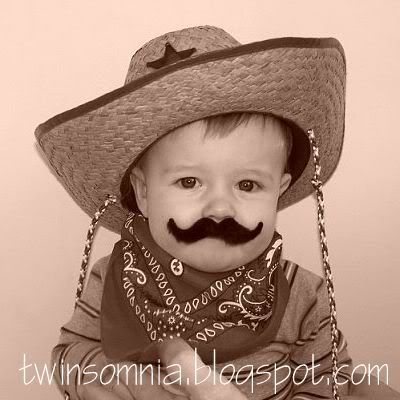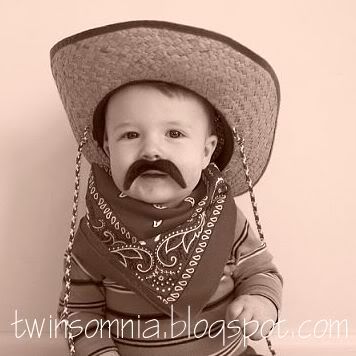 Who doesn't love a baby wearing a fake moustache?

(Well, I guess the baby probably doesn't love it. But mine lost their voting privileges when they gave me
twinskin
.)
This year we're not doing anything too momentous to celebrate. We'll have the
group birthday party
with all my friends' kids in a few weeks, and then we'll have a little cake and ice cream gathering with my immediate family this weekend. Since the boys are still obsessed with Blue's Clues, I may try my hand at making this pawprint cake:
Yes, that's a round cake surrounded by cupcakes. You can't get much easier than that, people. Even if I tried I don't think I could mess that up. I think I can even handle making two so they each have their own.

It's so simple it looks kind of lame, but I know the boys will love it. Their favorite activity in the world right now is drawing pictures of pawprints on their magnadoodles. No, scratch that - their favorite activity in the world right now is yelling "Paw-pin, mama! Paw-pin!" after they draw pictures of pawprints on their magnadoodles. Then erasing them and starting all over again. And again. And again and again and again.

So anyways, I'm pretty sure the boys will love those cakes. I bet they'll even whip out the
jazz hands
in celebration. Too bad they're not wearing the moustaches this year. Jazz hands and moustaches - now that would be some party.